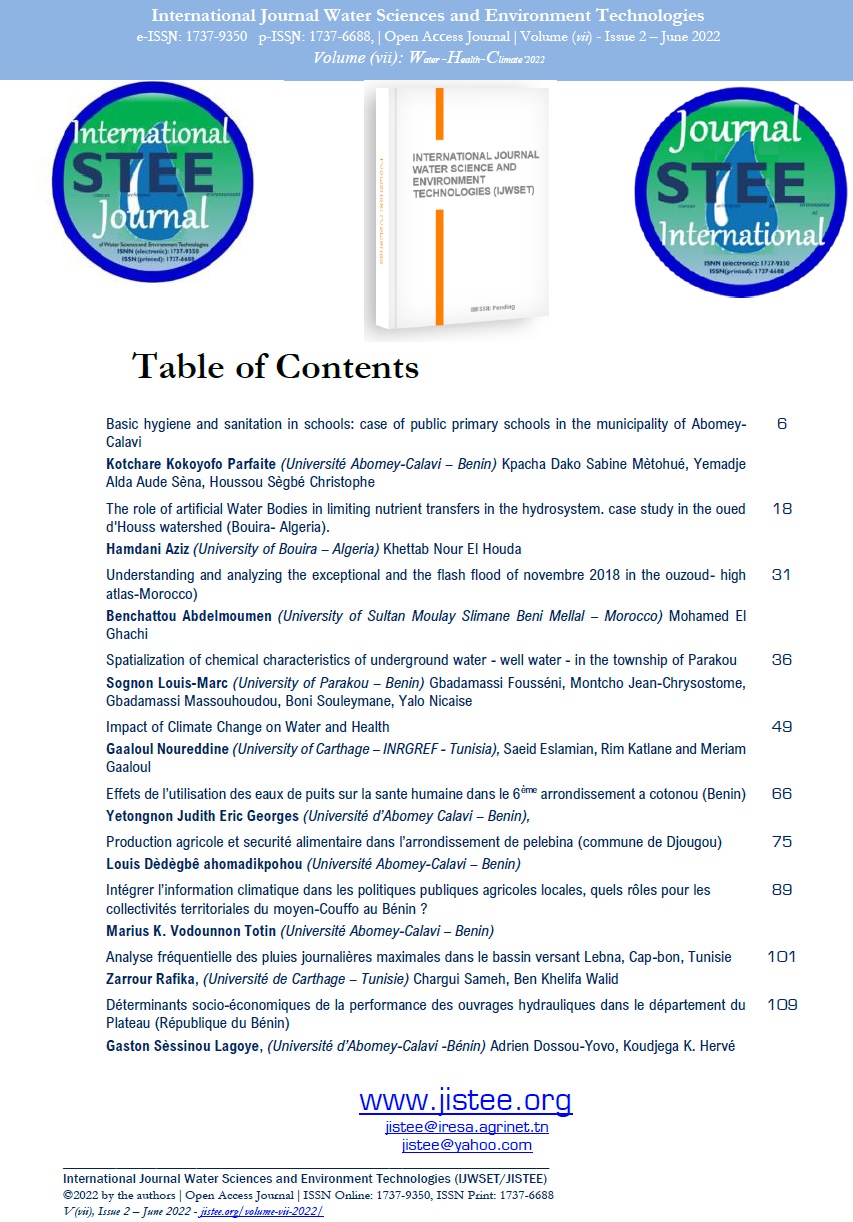 Kotchare Kokoyofo Parfaite-pp6-17 (Université Abomey-Calavi – Benin) Kpacha Dako Sabine Mètohué, Yemadje Alda Aude Sèna and Houssou Sègbé Christophe. Basic hygiene and sanitation in schools: case of public primary schools in the municipality of Abomey-Calavi
Hamdani Aziz-pp18-30 (University of Bouira – Algeria) and Khettab Nour El Houda. The role of artificial Water Bodies in limiting nutrient transfers in the hydrosystem. case study in the oued d'Houss watershed (Bouira- Algeria).
Benchattou Abdelmoumen-pp31-35 (University of Sultan Moulay Slimane Beni Mellal – Morocco) and Mohamed El Ghachi . Understanding and analyzing the exceptional and the flash flood of novembre 2018 in the ouzoud- high atlas-Morocco)
Sognon Louis-Marc-pp36-48 (University of Parakou – Benin) Gbadamassi Fousséni, Montcho Jean-Chrysostome, Gbadamassi Massouhoudou, Boni Souleymane and Yalo Nicaise. Spatialization of chemical characteristics of underground water – well water – in the township of Parakou
Noureddine Gaaloul-pp49-60 (University of Carthage – INRGREF – Tunisia), Saeid Eslamian, Rim Katlane and Meriam Gaaloul. Impact of Climate Change on Water and Health
Yetongnon Judith Eric Georges-pp66-74 (Université d'Abomey Calavi – Benin). Effets de l'utilisation des eaux de puits sur la sante humaine dans le 6ème arrondissement a cotonou (Benin)
Louis Dèdègbê Ahomadikpohou-pp75-88 (Université Abomey-Calavi – Benin). Production agricole et securité alimentaire dans l'arrondissement de pelebina (commune de Djougou)
Marius K. Vodounnon Totin-pp89-100 (Université Abomey-Calavi – Benin). Intégrer l'information climatique dans les politiques publiques agricoles locales, quels rôles pour les collectivités territoriales du moyen-Couffo au Bénin ?
Zarrour Rafika-pp101-108 (Université de Carthage – Tunisie) Chargui Sameh and Ben Khelifa Walid. Analyse fréquentielle des pluies journalières maximales dans le bassin versant Lebna, Cap-bon, Tunisie
Gaston Sèssinou Lagoye-pp109-122 (Université d'Abomey-Calavi -Bénin) Adrien Dossou-Yovo and Koudjega K. Hervé. Déterminants socio-économiques de la performance des ouvrages hydrauliques dans le département du Plateau (République du Bénin).
Télécharger Volume VII – Issue 2 – June 2022